Projects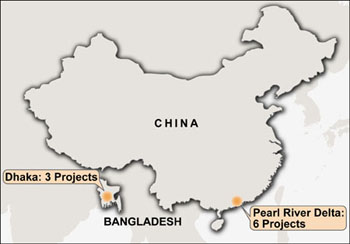 In the second phase of the program (2008-2010) 11 single projects are researching the complex urban systems of Dhaka (Bangladesh) and the Pearl River Delta (China).
In both China and Bangladesh intense urbanization processes took place during the last decades. This is also being reflected in the study areas:
The Pearl River Delta (PRD) - consisting of nine prefectures of Guangdong Province, Hong Kong SAR and Macau SAR - is a polynodal megaurban region. Since the mid-1980ies, economic reforms and massive investment rapidly turned the region into China's economic powerhouse.
--> Seven projects with 12 German Universities and their Chinese partners are mainly working in the urban centres of Guangzhou, Shenzhen and Hong Kong.
Dhaka is considered to be one of the world's fastest growing urban centres, with a population increase of almost 470 percent during the last quarter of the 21st century.
--> Four projects are working in Dhaka, comprising of 5 German Universities and their partner institutions in Bangladesh.